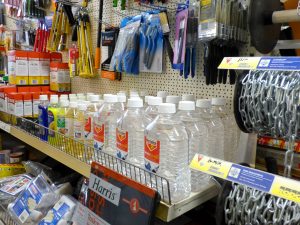 Welcome to the Lamats Hardware Webpage. At our shop in Old Town Leamington Spa we stock over 1,500 items and can also order many more within days.
Items including hardware, light bulbs and decorating supplies are available, featuring some of the best DIY brands on the market.
We have added a vintage & collectables section where you can find that small present for yourself, friends or family.
With a friendly and helpful service, we have some regular Customers who have been using us since we opened over 14 years ago.
NEW SERVICES
1. Blade, tools  and equipment sharpening – Our in house water cooled sharpening service can handle everything from a knife to a piece of garden equipment. You just come to the shop with your item and we will advise if it can be sharpened, the cost and when to pick it up.
2. House Painting and Garden Fence Spraying – We now have a professional paint spraying machine which allows us to come and spray paint your fence, exterior walls or other surfaces etc. Alongside this we can also quote for house painting.
3. Bespoke Van Liveries, Shop Signs and Window Graphics – If you need a sign making or your vehicle re liveried then we can now offer that service also. Using top quality vinyl all of our signs are accurately cut and applied. Just visit us for a quote.
4. Local Tradesmen – and finally we have over 14 years discovered tradesmen that we would trust to do our jobs quickly, professionally and affordably. Although these tradesmen are not part of our business we can pass on your details if you would like to consider using them.